(1d) November 10, 2017: Personality Disorders: Assessment and Intervention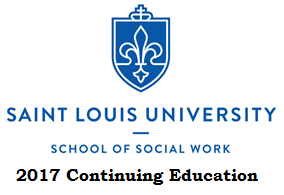 Friday, November 10, 2017
9:00 a.m.-4:00 p.m.
check-in begins at 8:30 a.m.
Pre-register by November 3, 2017
6 CEHs
$75.00 SLU Alumni and pre-registered SLU practicum instructors
$95.00 Others or registration at the door.
Course Description: This session will provide an overview of the prominent personality disorders including borderline, antisocial, narcissistic, obsessive compulsive, and dependent. Participants will be introduced to the symptoms, etiology, and common co-occurring issues that are experienced in clinical practice. Accurate assessment and evidenced-based interventions will be presented in order to help clinicians in working effectively with people. DSM 5 criterion and assessment will be used.
Presented by: Shannon Cooper-Sadlo, Ph.D., LCSW is an Associate Clinical Professor currently teaching practice and clinical courses. Dr. Cooper-Sadlo has been in clinical practice with various populations and specializes in areas of substance use, co-occurring disorders, and trauma. In these positions, she has had significant experience working with individuals and families in hospitals and community settings. Her doctorate is in Counseling and Family Therapy.