School of Social Work "The Cup"-Blue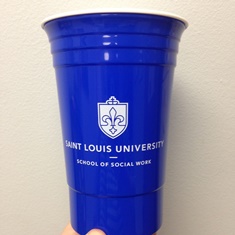 This is a nice insulated cup that looks similar to the disposable one we are used to seeing at picnics. Every person who has touched this cup was surprised at the construction as it looks just like a light-weight disposable cup but is designed for long-term use. You will like this cup!
• FDA-compliant, BPA-free, double-wall insulated, Tri-Edge™ polypropylene cup
• Sturdy and reusable
• Hand wash recommended
• Do not microwave
• Assembled in USA
• Holds 16 oz.